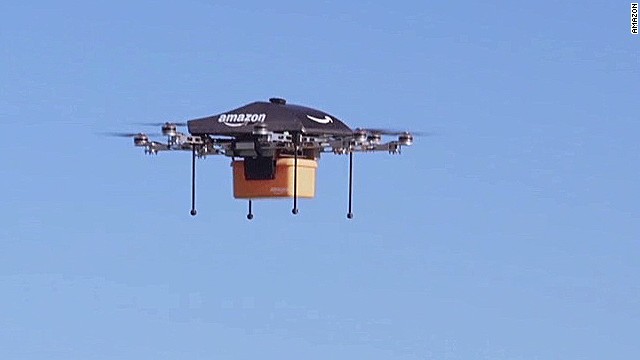 Introduction:
Are you looking for delivery drones for sale? You probably came across the idea of delivery drones pretty recently when Amazon's experiments with using drones for making deliveries to customers was widely covered by the media. Amazon's delivery drones have certainly captured the public imagination, but as of now, it is not yet a full blown idea, and is still very much an experiment. The big problem is that in the United States the regulatory hurdles are too big for Amazon to explore the true potential of delivery drones to the fullest extent.
Other startups have tried to come up with delivery drones for sale as well. One such startup is Matternet, which has come up with delivery drones recently and plans to sell them commercially.However,
Matternet's delivery drones, called Matternet ONE, are extremely expensive – they cost $5000 per unit.
There has been so far only one company that has been successful with its delivery drone system and has made its delivery drones available to businesses and the general public, and that company is a small Israeli startup called Flytrex and the delivery drone introduced by them is called the Flytrex Sky. Flytrex Sky costs one-tenth of what Matternet's delivery drones for sale cost, and is a highly innovative and even revolutionary product.
Flytrex Sky is a cloud-based delivery drone:
which means it is connected with a cloud-based backend. It is able to do so because of its 3G connectivity. So far Flytrex Sky has been used to deliver small items such as drinks and other light parcels. It is still something that arouses curiosity and interest rather than something that is truly practical or solves a major problem.
Flytrex Sky is a lot of fun. You can send the drone to your friends and family nearby using an app on iOS or Android. Flytrex identifies their location through GPS and is directed by what is called a Collaborative Piloting Technology, which means both the sender and the receiver can control its route. The sender directs its initial movements and then the receiver takes
over to ensure that it lands safely at his location.
As you can see it is still pretty much in the experimental stages, but is a lot of fun to use. FlyTrex CEO Yariv Bash says that the drone still did not have obstacle detection, which is so critical for urban areas, but this is something his engineers are working on.
Mr. Bash explains in an interview with the [Wired magazine], "We plan for the drone to have environmental awareness. Both for terrain and manmade structures. This will be a firmware upgrade in the next few months. The Flytrex Sky is capable of performing firmware upgrade from the cloud, thus this will be a pretty easy to install upgrade.
"What we are seeing here are the first steps in making the physical equivalent of the internet — moving physical objects from point to point, via routing points. It will take a few years, and Flytrex has a complete roadmap from today to a "Skynet"-like future."
Flytrex Sky can be piloted using the Flytrex Sky app:
which comes with a virtual control or an autopilot-directed GPS system, which allows both the sender and the receiver to direct the drone to the desired location. Flytrex Sky has a range of 7 miles and carries
packages that are of the size of a smartphone. It can carry larger packages that weigh 1 KG over shorter distances and has an accuracy of 2 to 3 meters only. It gives a flight time of 30 minutes at best.
Mr. Bash added that Flytrex's future would depend largely on its backend, more so than on the drones themselves: "Currently, the flight times of consumer drones are lacking behind what we'd like to see. The technology is getting there, but more of in a linear way than an exponential growth.
"On the other hand, the smartphone revolution has made the needed electronics for a smart flying machine pretty cheap and much more accessible. But as those drones become smarter and more connected, you'll need a lot more backend platform to support all the real time activity. We've spent a lot of time and effort on developing our Sky platform – a scalable cloud-based platform, to enable seamless real-time control of drones while in the air."
Flytrex has always insisted that customers should use Flytrex Sky in accordance with the regulations stipulated by their national aviation authorities. But this is not easy regulators have not yet taken warmly to the idea of delivery drones. There are several regulatory roadblocks along the way.
In fact Flytrex CEO Yariv Bash has often expressed his frustration that the regulations are not keeping
up with the technology. He says in his interview with Wired magazine, "As always, the regulations are lagging behind technology. And as always, technology will prevail. We see the Flytrex Sky as a first step towards drone deliveries. The drone industry is where the car industry was in the beginning of the 20th century, there's still much more to learn. We recommend that users follow the guidelines and regulations of their national aviation authority and above all — fly safely."
Flytrex Sky is quite affordable at $649. It's a lot of fun to own. You can buy it [here]. if you think it's something that interests you.
I wish you all the best, and remember that if you have any questions or comments you can post them in the comments section at the bottom of any blog post. It's great to hear from you.
Kind regards,
Emanuel
Founder of All Best Drones
www.allbestdrones.com
Share This: