DJI Inspire 1 Pro Review
Welcome to this DJI Inspire 1 Pro Review. For ever since I can remember, DJI has been making the best quadcopters for both beginners and intermediate drone flyers. DJI is to the consumer drone industry what Apple is to smartphones – DJI drones are extremely easy to fly and a pleasure to use.
They have all the advanced technological features that you would expect from a high-end quadcopter. The only issue that some of us have with DJI quadcopters is that they are not cheap – but then, iPhones aren't cheap either, if you get what I'm saying.
There's another issue that some people have with DJI quadcopters, especially the popular DJI products such as the DJI Phantom 3 and DJI Inspire 1 – while they have all the features that you would expect from a consumer drone, they are not capable of top-rated professional drone photography. Sure, the DJI Inspire 1 does shoot in 4k and that is good enough for most people, but that may not be enough for a professional photographer, who will want more from their machine.
Enter DJI Inspire 1 Pro!
DJI Inspire 1 Pro is an improvement on the DJI Inspire 1 because of the new camera systems it uses – the Zenmuse X5R and X5. Zenmuse X5R and X5 are 8 times as powerful as the X3 camera used by DJI Inspire 1 as they come with the very capable 16mp micro sensors, not dissimilar to what you get with the Panasonic GH4.
It's not just the bigger size of the sensors that excites us about DJI Inspire 1 Pro – we also like the fact that the Zenmuse X5 and X5R come with interchangeable lenses – which allows for a lot creative license in the aerial drone photography and cinematography– which is so important for a professional photographer. You can adjust the lens focus using the DJI Go App or the Focus Controller that comes with the purchase of the DJI Inspire Pro 1.
What about the DJI Inspire 1 Pro Performance?
The DJI Inspire 1 Pro is a large drone, which is heavier than your average quadcopter, but takes off much faster as well. It reaches a top speed of 50 mph – which allows it to take high quality photographs of the moving traffic – cars, bikes, boats, etc., which a slower quadcopter wouldn't be able to take. The combination of speed and superior cameras make the DJI Inspire 1 Pro an unbeatable prospect.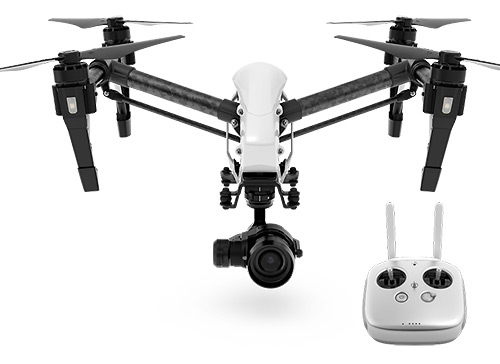 What I also liked was just how stable it was in the air. It was quite windy when I was flying the DJI Inspire 1 Pro, and I thought the quadcopter handled the conditions very well. It was completely unaffected and did everything I asked of it, even flying close to the ground at speed when I wanted it to. In fact, some of the best shots came when the quadcopter was flying close to the ground.
DJI Inspire 1 Pro – Specs
AIRCRAFT
Model
T600
Weight
2870 g (Battery and propellers included, Zenmuse X5 excluded)
3400 g (Battery, propellers and Zenmuse X5 included)
Max Takeoff Weight
3500 g
Hovering Accuracy (P Mode)
Vertical: 0.5 m
Horizontal: 2.5 m
Max Angular Velocity
Pitch: 300°/s
Yaw: 150°/s
Max Tilt Angle
35°
Max Ascent Speed
5 m/s
Max Descent Speed
4 m/s
Max Speed
18 m/s (ATTI mode, no wind)
Max Service Ceiling Above Sea Level
4,500 m (Default altitude limit: 120 m above takeoff point)
Max Wind Speed Resistance
10 m/s
Max Flight Time
Approxi. 15 minutes
Motor Model
DJI 3510H
Propeller Model
DJI 1345T
Indoor Hovering
Enabled by default
Operating Temperature
14° to 104° F (-10° to 40° C)
Diagonal Distance
559 mm
REMOTE CONTROLLER
Name
C1
Operating Frequency
922.7~927.7 MHz (Japan Only)
5.725~5.825 GHz
2.400~2.483 GHz
Max Transmitting Distance
FCC Compliant: 3.1 miles (5 km); CE Compliant: 2.1 miles (3.5 km)
(unobstructed, free of interference)
EIRP
10 dBm@900m MHz, 13 dBm@5.8 GHz, 20 dBm@2.4 GHz
Video Output Ports
USB, Mini HDMI
Power Supply
Built-in battery
Charging
DJI charger
Dual User Capability
Host-and-Slave connection
Mobile Device Holder
Tablet or Smart Phone
Max Mobile Device Width
170mm
Output Power
9 W
Operating Temperature
14° to 104° F (-10° to 40° C)
Storage Temperature
Less than 3 months: -4° to 113° F (-20° to 45° C)
More than 3 months: 72° to 82° F (22° to 28° C)
Charging Temperature
32° to 104° F (0° to 40° C)
Battery
6000 mAh 2S LiPo
DJI Inspire 1 Pro – Drawbacks
So is the DJI Inspire 1 Pro perfect? Maybe not, but it's as close as it gets. My only issue with the quadcopter was that it did not have the perfect dual operator setup, which means having an FPV camera for the person operating the quadcopter, plus an FPV from the recording camera. Is that too much to ask? You tell me!
Why Buy DJI Inspire 1 Pro?
I think the Zenmuse X5R and X5 cameras that the DJI Inspire 1 Pro comes with make it perhaps the best DJI product for aerial drone photography. I consider myself to be somewhat of an expert when it comes to drone photography, and you can imagine how excited I'm with this exciting new quadcopter from DJI!  It's not the cheapest though – DJI Inspire 1 Pro + X5 package would cost you $3,889, while the DJI Inspire 1 Pro + X5R
package would cost $5,999.  But then, remember what I said about DJI being the Apple of consumer drones?
I wish you all the best, and remember that if you have any questions or comments you can post them in the comments section at the bottom of any blog post. It's great to hear from you.
Kind regards,
Emanuel
Founder of All Best Drones
www.allbestdrones.com


Share This: