FlyPro px400 Review
Drones are popular these days. Using a drone you can take photos or videos with good angles and better view. Now buying a quality drone! Now that's tricky. Since drones are so much popular now, there are lots of manufactures. When buying a drone you have to consider many aspects. Flypro px400 is one of the best drones you can buy which has all the qualities you want.
Design
Flypro px400 has an incredible aerodynamic design which makes it beautiful & easy to fly. This has a
full carbon fiber material cast which make this strong. When you are flying this, you can accidentally hit something. So it is important to have a strong design otherwise this will be easily broken. Flypro px400 is foldable and portable, because of that you can easily carry this within a bag. Foot part is made to stable the entire machine so that it is easy to land.
Features
Flypro px400 has lots of features which are remarkable. There is an auto-takeoff, landing option and auto return option which you just have to click once to land or takeoff. When you want to film you have to click just once and it will be up and after you finished you just have to click once again and it will be automatically landed. If you try to land manually it will be bit difficult, if you don't have much practice. But In this way it is so much easier. Also there is an option to set Flypro px400 to make circular rotations on a set radius and altitude. Also you can set the camera aimed at a target. Another useful feature of Flypro px400 is that you can draw arbitrary curves and the drone will fly in that path. Using follow me option you can set Flypro px400 to follow you. Since this doesn't need any manual control it is much easier. There is clear and precise map to show where the Flypro px400 is at all times. Important information such as altitude, flight speed, distance and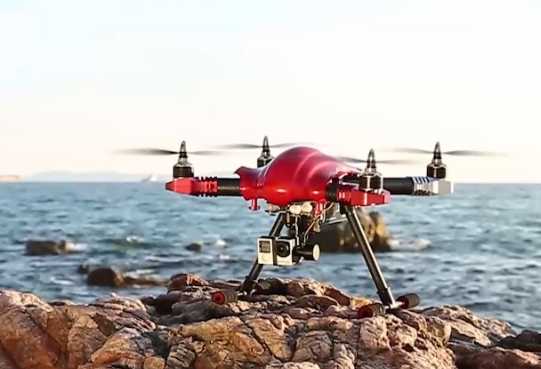 many more things can be instantly gain from this device. Flypro px400 has a latest camera which can capture high quality videos and high-definition images. This has a high-performance data transmitter which can transmit images and videos real time. There is also a shock-proof 3-axis gimbal and a 10CH transmitter with high-definition monitor. There is a sonar sensor and optical flow camera so that you can fly indoors without GPS using vision positioning system.
Operation
Having a strong designed drone is important. Flypro px400 has a strong design which is durable and weather resistant and if you use it with care you will be able to use this for a very long time. Flypro px400 can fly approximately 25 minutes and can have a 40 km/h speed. Flypro px400 weight 3.08lbs and it will be 4.62lbs with batteries. In the package there is 1 walkera DEVO 10 + RX1002, P-3D Gimbal, Image Transmitter, DV701 Monitor, CNC Monitor, mini b6ac Charger, 5200MAH 6S Battery, GOPRO 3 AV Cable, TF Card Reader, Digital Transmission Module, Battery Alert. In pro version OPTICAL FLOW Camera with Sonar sensor and High Quality Motor.
Conclusion
Flypro px400 is definitely one of the best drones available in the market. You will never regret spending money on Flypro px400 and this device is highly recommended.
I wish you all the best, and remember that if you have any questions or comments you can post them in the comments section at the bottom of any blog post. It's great to hear from you.
Kind regards,
Emanuel
Founder of All Best Drones
www.allbestdrones.com
Share This: