Flytrex Live 3G Review
If you're like me, you want to share everything you do with your drone with your friends on Facebook, Twitter, YouTube and Instagram. I mean, a lot of us who love flying drones put our heart and soul into it, invest hours of our time each week, not to mention hundreds of dollars – what's the point of it all if we cannot share our achievements with our friends, challenge other hobbyists and engage with the worldwide community of drone fliers? Well, with the Flytrex Live 3G, you can do all of that and more! Let's find out how in this Flytrex Live 3G review!
How does Flytrex Live 3G work?
You're no doubt familiar with the concept of a Black Box. A black box is a technology used by the airline industry that records flight data on a continuous basis. It records the aircraft's location, distance covered, time of the flight and much more. The black box sends signals continuously to a ground receiver – so if the plane was to crash, investigators can find out what happened by going through the signals sent by the black box.
The Flytrex Live 3G operates on the same technology. It provides a live 3G internet connection to the drone so that any information related the flight and other important flight parameters are relayed to you constantly.
Just remember that Flytrex Live 3G works on a cellular network, so you will need to buy a 3G data plan with the network for it to work. All you need to do is to put a micro SIM card into the Flytrex Live 3G and it is ready to go!
The Flytrex Live 3G Installation
The Flytrex Live 3G is a very small, light black box that weighs one ounce and is only two inches wide and 0.5 inches thick. It comes with an installation cable that connects it to the drone, a GPS data port, a pressure sensor, hardwired power leads, a USB port, an LED status indicator, as well as a slot for inserting the micro SIM card that we talked about.
It's really easy to install the Flytrex Live 3G into the drone – just connect the cables, mount the Live box on the drone chassis, turn the screws and you are ready to go. Some models may require you to use soldering to fix the Live Box.
How to Register the Live Box?
To register the Flytrex Live 3G, use the QR reader on your smartphone to scan the code that's on the back of the Live Box. This will take you to your Flytrex account. Just fill in your personal details as well as information about the drone make and model and become a part of a global community of drone fliers.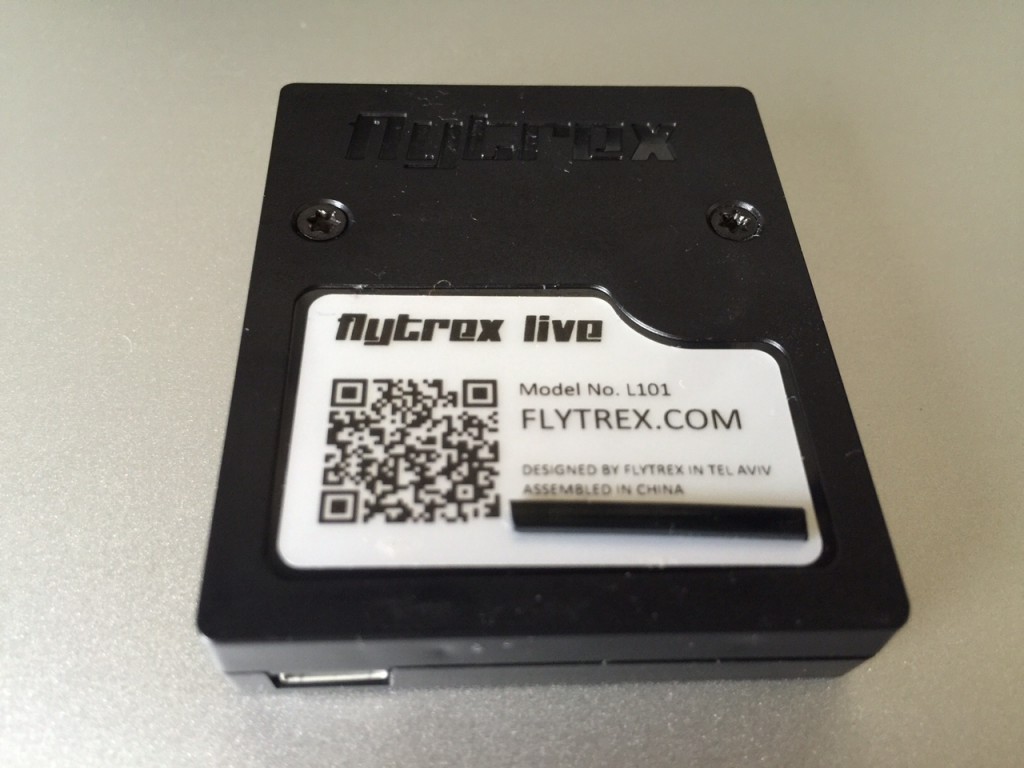 Once you set up your Flytrex account, you can sync it to your accounts on Facebook, Google+ and Twitter. You can share your flight data with your friends and upload it on the biggest social media networks. You can challenge other drone fliers around the world, even those who are thousands of miles from where you are.
Flytrex Live 3G: Pros and Cons
PROS:
It logs all flight data automatically
Advanced Last Seen Tool lets you find lost aircraft
It offers a real time sharing of flight information
Can be synced with multiple social media platforms
Works with almost all types of drones
CONS:
You will need a 3G wireless carrier.
When used with some drones, the installation can be difficult. Soldering may be required.
Hope you enjoyed this Flytrex Live 3G review. As you can see, I'm very excited at finally being able to share my exploits as a drone flier on the social media because of the Flytrex Live 3G and I recommend it highly.
You can buy Flytrex Live 3G for a very affordable price of $189 from its official website here.
You may also be interested in the Flytrex Sky Review 
I wish you all the best, and remember that if you have any questions or comments you can post them in the comments section at the bottom of any blog post. It's great to hear from you.
Kind regards,
Emanuel
Founder of All Best Drones
www.allbestdrones.com


Share This: