In our today's Parrot AR. Drone 2.0 review we will talk about various aspects and features of this outstanding device. Like in most of the parrot ar drone 2 reviews, first of all we would like to inform you that the Parrot AR. Drone 2.0 is a quadricopter that is controlled intuitively using a smartphone or tablet. Pilots will enjoy a unique flying experience as they view the Earth from above – in high definition – and share their experience with other AR Drone pilots all around the world. Snow Version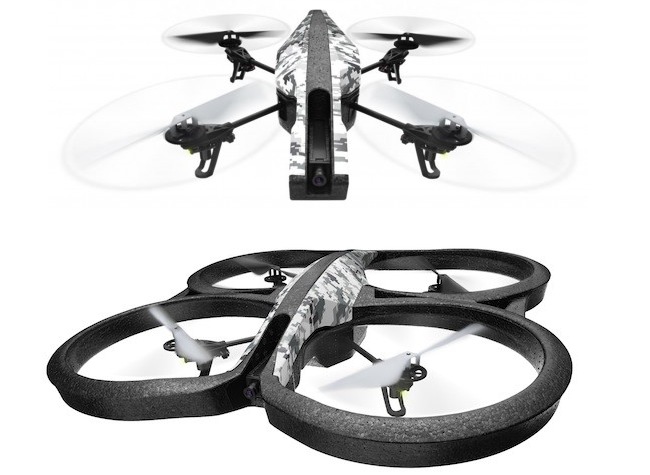 features a camouflage pattern inspired by the Arctic region. Some say that the Parrot AR. Drone is the dream toy that will satisfy your flying needs and create outstanding videos on the go. But lets see what are the best features of this outstanding drone.
Features of Parrot AR. Drone 2.0
It features cool 720p high-definition camera that can capture some amazing photos and videos, thus it enables your little one to capture photos from the quadcopter's perspective. The mobile app handles all recording and storage, so any video or photos you take are automatically added to your smartphone or tablet; the drone doesn't have any onboard storage. It doesn't record sound, because the drone's rotors would drown out any audio it could capture.
On the other hand, you can maneuver with the on-board pressure sensors. On top of that you can automatically correct and maintain a still position in the air to help keep the quadcopter stable. Just to avoid any damage the autopilot feature will allow you smooth take-off and landing.
Additionally, the parrot ar drone 2.0 features lovely 3D compass. This lovely quadcopter also offers reference and dynamic wind estimation for controlled flight. This makes it much easier to control and much safer.  The drone has wireless-N connection. Because all of these features it will allow your child to operate the quadcopter from up to 165′ away.
One of the best features of the Parrot AR. Drone 2.0 is the possibility to control it with the apps. You must download the AR.Drone app on your devices. In that way your child or any other family member or friend can control the quadcopter using his or her Apple, iPhone or iPad, or Android device.
Regarding design the Parrot AR. Drone features Indoor protective EPP hull and outdoor aerodynamic EPP hull. It enables use both indoors and outdoors.
Conclusion
Hope this parrot AR. Drone 2.0 review will help you in better understanding this device. From our experience we can conclude that this drone is fairly easy to fly and perform stunts with. Camera function is fun. Mobile apps are useful and functional. This camera-equipped, smartphone- and tablet-controlled quadcopter is worth checking out if you want to spend some cash on a fun gadget. It is one of the most affordable drones as well.
I wish you all the best, and remember that if you have any questions or comments you can post them in the comments section at the bottom of any blog post. It's great to hear from you.
Kind regards,
Emanuel
Founder of All Best Drones
www.allbestdrones.com
Share This: