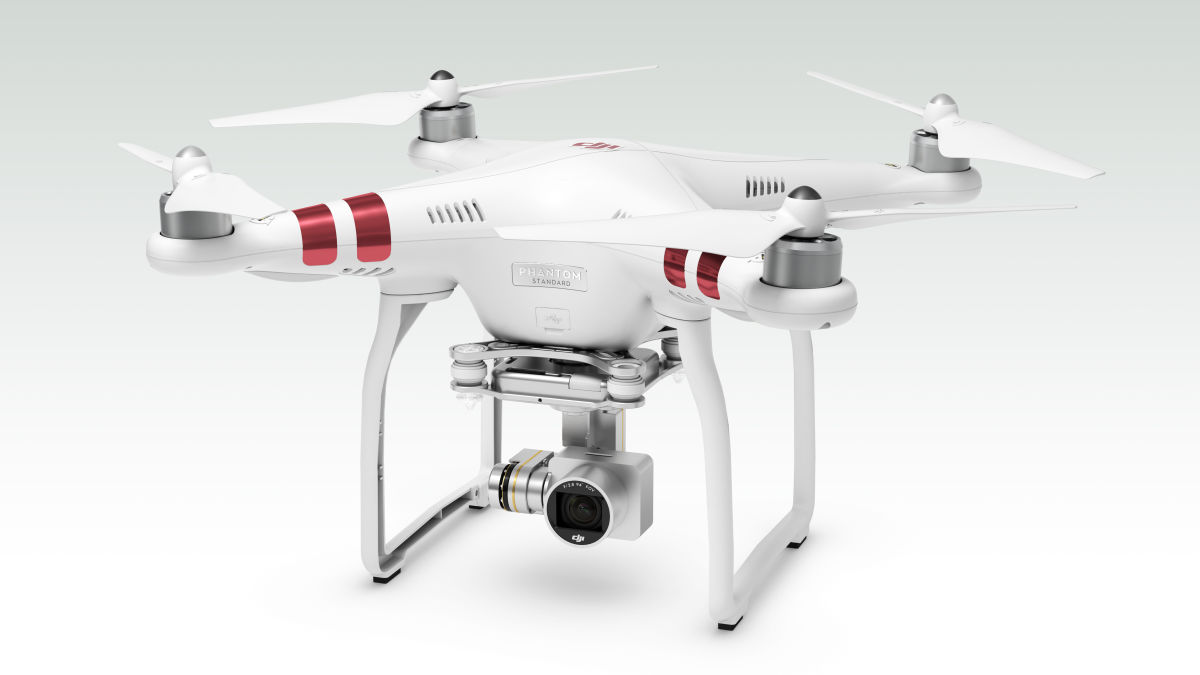 In this DJI Phantom 3 Standard review, we look at the new quadcopter from DJI, which is making a lot of news lately as the best drone to learn how to fly. Let's start off with the one thing that makes the DJI Phantom 3 Standard different from the highly regarded Professional and Advanced versions – the price.
Phantom 3 Standard sells for $416 compared to $739 for Phantom 3 Advanced and $799 for Phantom 3 Professional. This is a significant difference, and there really isn't much lost in terms of quality. Phantom 3 Standard is easier to operate than the more advanced versions, although it does lack some of their features.
What it does, though, is to make your flight smooth and shoot video footage of the highest quality. The main goal behind the introduction of DJI Phantom 3 Standard is to introduce beginners slowly into the world of drone flying. In fact, it is so simple to use that you can start flying Phantom 3 Standard straight out of the box – it comes with the Follow Me mode, which makes it such a pleasure to work with.
So what do you get for the $416 you spend on DJI Phantom 3 Standard? You get the drone, the gimbal, the gimbal guard, batteries, camera, controller, 8 propellers, charging cables and an SD card. This is pretty much standard and what you get with Advanced and Professional as well.
DJI Phantom3 Standard, just like Professional and Advanced, uses a camera mounted on a motorized
gimbal. The camera captures 2.7K video at 30fps, 1080p at 48fps or 720p at 60fps. The difference with the higher models is that DJI Phantom 3 Advanced shoots 1080p at a higher rate of 60fps, which makes the videos a little more sophisticated.
The other big difference is the controller. Advanced and Professional have more sophisticated controllers while Standard has something that is similar to the old DJI Vision 2 controller, with the same shape and camera control. The controller that comes with Standard does not come with any dedicated buttons for taking videos and pictures, so this is pretty much all that differentiates Standard from the other two types in terms of hardware.
The performance of Standard is just about the same as Advanced and Professional. It flies as smoothly as you would expect from a top quality quadcopter from DJI and with absolute precision. There is also the GO app that comes with Standard that displays the live feed from its camera straight on to your smartphone. The GO app is as good as it gets, and it does simplify a lot of things, making shooting videos from the drone a real pleasure.
When it comes to flying, Standard lacks slightly compared to Professional and Advanced as it lacks their ultrasonic sensors, so does not have the same stability as the other two.  But it is still very stable, and offers much greater stability in the air than most flying drones out there.
The only issue you may have is that Standard is not the best when it comes to flying indoors. For flying indoors, you would be better off buying either DJI Phantom 3 Professional or Advanced. But for your first drone, you simply cannot go wrong with Standard – it has all the great features you would expect from a DJI drone and is reasonably priced.
In particular, we liked the Standard's flight capability, excellent camera and the GO app that comes with it – which is as good as it gets for a drone in its price range. So, if you've never flown a drone before, or are relatively inexperienced, the best way to get started is with DJI Phantom 3 Standard. You can make your order here.
OR
I wish you all the best, and remember that if you have any questions or comments you can post them in the comments section at the bottom of any blog post. It's great to hear from you.
Kind regards,
Emanuel
Founder of All Best Drones
www.allbestdrones.com
Share This: