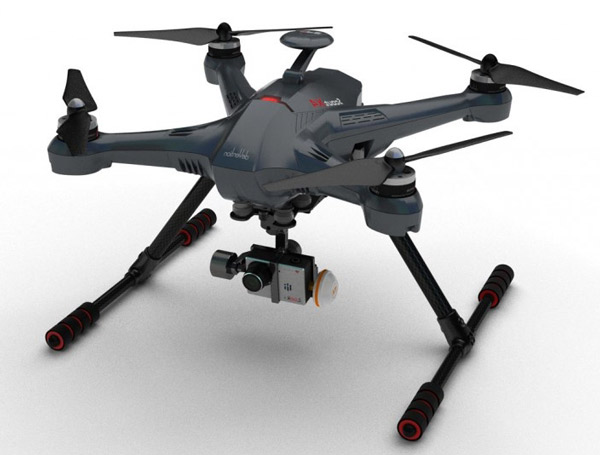 The Walkera Scout X4 review can help you determine whether this quadcopter has good enough features for that price range and whether it satisfies your needs. With its outstanding Walkera Devo F12E FPV transmitter, Devention Devo 10 RC receiver and the UAV's chassis Walkera has largely improved their Scout line with the Scout X4. Walkera has been famous for creating solid mid-range drones and we truly think that they did an outstanding job with the Scout 4.
Walkera Scout X4 Review – Features and Specifications
First I will talk about the specs. It is powered by WK-WS-34-002 motor. Its dimensions are 13.1 x 13.1 x 10.8 inches and weighs 3.9 lbs. In terms of battery it has 22.2V 5400mAh LiPo and has 25 minutes flight time. It also has the high quality iLook+ camera that can shoot 1080p videos and has 5.8 GHz transmitter. The quality of the videos is amazing.
In terms of features, the Walkera Scout X4 is so easy to navigate. That is due to the outstanding Devo F12E transmitter, every nudge you make on the control sticks registers right away, and it is very responsive. Paired with its FPV monitor, the drone is so easy to fly. It is so good that you can easily say it can be a great completion to the DJI quadcopters, we at least in terms of navigability.
The Scout 4 range is one of the best in the market right now. It has a control range of 3,280 ft. The range is something you'll be able to maximize as well because of the great 25 minutes of flight time.
On the other hand the Scout 4 has retractable landing skids. This is a feature that resolves the common issue of quadcopter landing gear that obscures the camera's field of view. On top of that you can add 4 more rotors and additionally customize it. You can do that in order to carry a heavier payload.
The waypoint mapping technology that Scout 4 uses is unique. Using it you will be able to designate a route for the quadcopter by simply tapping the destinations on your smartphone or tablet. This is a great, highly functional and really interesting feature.
What we also like about this quadcopter is the Follow-Me mode. With the Follow-Me the Walkera Scout 4 will trail the user based on GPS coordinates.
Walkera Scout X4 Conclusion
We truly hope that this Walkera Scout X4 review will help you determine whether this quadcopter has good value and whether it is a worthy investment. We think that it is because besides the fact that it is little heavy the pros are largely overcoming the cons. Besides the great technical specifications, there are some interesting additional features like the designated route and Follow Me features that will make things more interesting for you. The fact that it has amazing range and great flying time is making the Walkera Scout X4 one of the best quadcopters for that price range.
Click the Image Below for Worldwide Free Shipping
I wish you all the best, and remember that if you have any questions or comments you can post them in the comments section at the bottom of any blog post. It's great to hear from you.
Kind regards,
Emanuel
Founder of All Best Drones
www.allbestdrones.com
Share This: